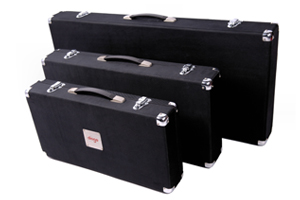 Hardcase Pedalboards
Designed with the touring musician in mind.
Built to be used and abused, these pedalboards are designed to withstand a lifetime of heavy use on the road.
Diago Hardcase Pedalboards combine a lightweight and roadworthy pedal board and hard case, making them ideal for transporting your gear between home, gigs and practices. It makes set-up and take-down quick and easy, and is great for storing your pedals at home, so that they can be neatly hidden away from your wife/mum/significant other.